This book is one of the better ones I have come across so far in this series. During the original trilogy Riverwind wasn't really a super main character I mean he was there but he played kind of a supporting role. But we were left with a lot of questions.
If you are curious this is the picture of all the books we (my two sons and I) have read so far: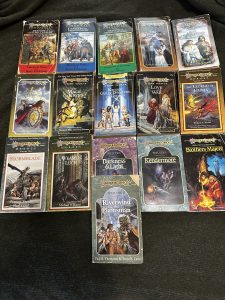 This book clears those up.
We kind of knew that ceremony and tradition were important to the Plainsmen? But how important?
What were the politics that really led to his quest that he was so driven to achieve?
How good of a hunter/survivor is he really.
All of that gets answered.
We also learn more about the Draconians, a race of elves we didn't (at least I) didn't know about. Something called the Nightrunners. Kind of these wolves led by a half man/half wolf creature by the name of Kyanor.
There is a strange guy I still have questions about called Catchflea. Still not really sure about his obsession (humorous though it is) with these three acorns.
We also aren't really sure what of Riverwind's memories from his quest were part of reality and what were part of an illusion that was cast upon him.
I know it sounds like the book left us with a lot of questions, and it did, but it also cleared up a lot of things.
If I had to rate it on the "should you" read it list. If you like DragonLance and fantasy reading 7 out of 10 must read. If you are deep in DragonLance 10 for 10. Well worth the time and was an actual page turner for me. (Some of the ones in the series really weren't but this one delivers).