Chapter 4
The Open Door
Flight into Darkness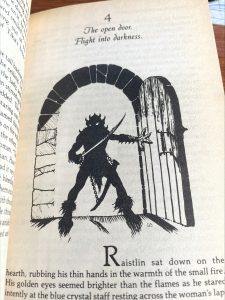 When we last saw the party in Chapter 3 they were running out the back door of the Inn of the Last Home.
Here they are fleeing into the night's they try to answer questions about what is going on. Can they trust Goldmoon? Can they trust Riverwind?
Is she and the staff really able to hear people or is it all a trick?
Can the barbarians trust the party of friends?
As they find a place to hold up for the night as the town is being searched they try to answer some of these questions. Is the staff blessed by the gods? Is it a sign of the true gods everyone has been looking for?
All is going well until their hiding spot is found and the party may have to run again because they may have accidentally killed a few more guards. While we don't get many answers in this chapter it does move fast and it does make us try to figure a lot out, and make us want to turn a lot more pages!
Chapter 5
Farewell to Flint!
Arrows fly. Message in the stars.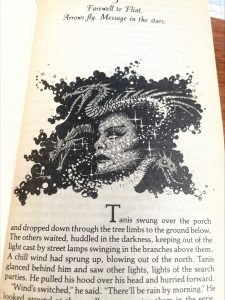 They have to flee again. This time they have to get out quickly but all of the roads are blocked by guards searching for whomever is hiding with the blue crystal staff.
The answer is to go across the lake in a boat…except Flint really doesn't like boats. He has a crippling fear of them thanks to that time Caramon almost accidentally drowned him.
As they are trying to get in the boat, and argue with flint a group of Goblins find them. Arrows fly in both directions! Will Flint go or will he stand his ground and fight?
Raistlin shocks everyone when he casts a spell to solve the problem in one shot. As they finally find safety they look up, and notice something missing.
There are two constellations of stars that are no longer in the sky. That of the Queen of Darkness, and the Valiant Warrior. Have the gods of evil and good come to Krynn to fight for control?