Knight of Solamnia
The Old Man's Party
We find that Kitiara (the twin's sister) isn't going to make the reunion but now we also know she is a mercenary and probably pledged to something she couldn't get out of.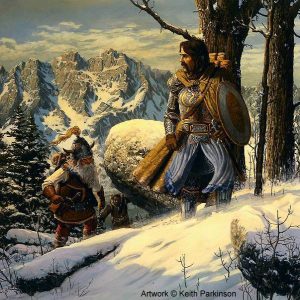 For the first time in the book we meet Sturm Brightblade, seen in the painting traveling with Flint, who walks in the Inn, and everyone instantly recognizes him as a Knight of Solamnia. Strum is oddly proud of being a Knight. The knights themselves have fallen out of popularity as they have corruption issues in the rank and file.
He is accompanies by two barbarians in clothes recognized as those of the Plainsmen.
These two characters are Goldmoon and Riverwind. They are very proud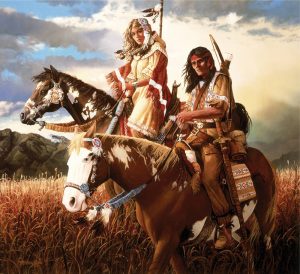 people that Sturm found tired and hungry on the side of the road.  He brought them into town so they could find food and rest.
Throughout the chapter we hear again about Armies massing to the North. But this time we learn they may not be made up of humans. But given the amount of chatter it is obvious something is going on and there is about to be a war, but what kind of war? A war against all living things or is it something else?
As we progress the old man comes back into the story, this time telling stories to kids around a fire. We learn that Dragons have long since left the world and children want to see them (DragonLance did that before Game of Thrones so hush!).
The action really starts when the High Theocrat starts a drunken argument about the old Gods not being true Gods, he gets hurt, the mysterious blue crystal staff shows up (Goldmoon had it). It has magical healing powers that everyone is afraid of! Now the real brawl starts, our companions leave quickly out of the back of the Inn through the kitchen as the local authorities start the search for whomever was responsible for injuring the theocrat and using dangerous evil powers to heal someone!
The real story starts here as the party escapes out the back of the Inn through the kitchen! The authors brilliantly rocketed through character introduction, and combining it with action in these first chapters and thrust us headlong into a story that we can't wait to experience.