The Death Gate Cycle is a series from the masters of modern Fantasy Margaret Weis and Tracy Hickman. It is a seven book series containing the following titles:
Dragon Wing
Elven Star
Fire Sea
Serpent Mage
The Hand of Chaos
Into the Labryinth
The Seventh Gate
Many books in the fantasy genre are written in some distant past and commonly in some fictional world other than Earth. The Death Gate Cycle is a different story. It is written in the future after some nuclear war nearly destroyed the planet. Yes this planet has elves and dragons.
It is a fictional world, but it is the one we know. It has however been divided into four different realms, that of fire, water, sky and stone. Not everyone is aware of all four realms, that is held to a select few who have survived the dreaded Labyrinth.
Like all the books I have ever read by this duo it sucks you in. It is well written, the characters come to life, if you pick up one you will want to read all seven. Yes, they are from the early 90s but they hold up perfectly. The emotion leaps off the page, and everyone who reads it will find a character to identify with. We all have our favorites, admit it!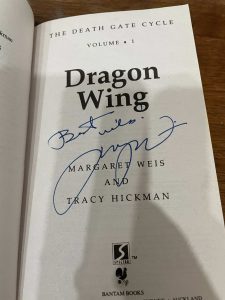 I highly recommend this series, and anything at all by these two authors. As an author and avid reader myself I see the genius in their work. As an added bonus if you order them from Margaret Weis' website, they will come to your house autographed. I have all seven on my shelf! You will not be upset if you put a set on yours.