Set at a time with the world was rife with sorcery and violence one man the Gath of Baal stood between peace and eternal war. Gath must throw down against the will of the Gods and in order to win he has to put on The Horned Helmet which turns him into death become human. The Helmet twists his soul until he becomes the ultimate destroyer, but can he escape the helmet.
And that is just book one.
This is a fantasy series, originally 4 books, but in the early 2000s there was a fifth released. These books are not just fantasy, they are action thriller or action-adventure books. These are not plot twisting political dramas, these are pure adventure and action. Lots of blood and guts in this series!
They are fast moving, fun reads. The four books in the original series are:
Prisoner of the Horned Helmet
Lords of Destruction
Tooth and Claw
Plague of Knives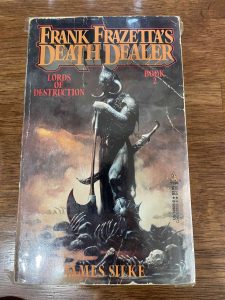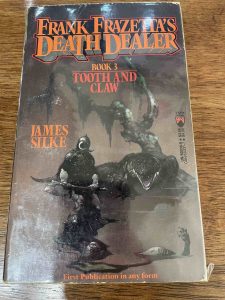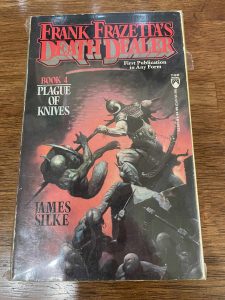 The artwork is from one of the most well known elite fantasy artists of the time, Frank Frazetta. It is just amazing Cover Art. These are a personal favorite on my bookshelf and in the first release form like I have getting very hard to find.
I hope you get the chance to read them someday! They will not let you down.