Chapter 6
Night in a cave
Dissension. Tanis Decides.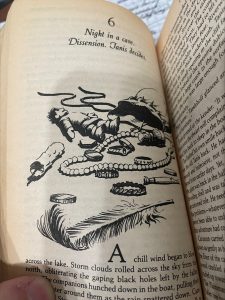 I do love the simple sketches at the start of each chapter. It really sets the tone for what is to come.
As we continue into the book the personalities of our party of characters are really starting to come out. We can see how they compliment one another. Where one is strong another is weak. The interesting love of adventure and perhaps A.D.D. of Tasslehoff is one of those fantastic examples. We also are starting to get some of that backstory of the companions, but in small doses and only in ways that pertain to moving the story forward.
I feel one of the fantastic things that start to come forward is the motivations and fears of each of the characters. This is something that has influenced my own writing. I like to get inside a characters head so the reader (me or someone else) can really understand why they do what they do.
As a part of the story we learn that as our companions figure out how to get the Blue Crystal Staff to someone who can help them figure it out they will have to travel, but they are short on food and supplies. So this will be a tricky bit to deal with. But, in order to determine if the staff is a sign of the true gods, it could be totally worth the danger.
Chapter 7
The story of the staff
Strange clerics. Eerie Feelings.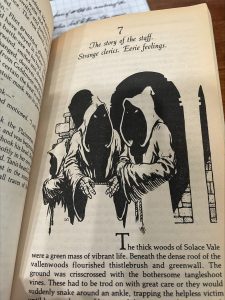 The companions start to move out and try to figure out their order of march. They decide that sending Tasslehoff to scout ahead is the right choice, because no one will suspect a Kender traveling alone (they can be annoying to travel with), but they also tend to wander off and get distracted by whatever they find fun. So, risky but worth it.
It is revealed the Goldmoon is royalty in her tribe, and Riverwind is the exact opposite of that. But, they have been in love. They wanted to get married, but her father would not allow it unless he completed a quest. Her father attempted to find a quest he couldn't possibly complete. He was to go find an object with holy properties that would prove the existence of ancient true gods.
When Riverwind returned with the staff they did not believe him. He was to be stoned to death for lying. Goldmoon got between him and those throwing the stones, and the staff saved them by transporting them far away.
As Riverwind is explaining all of this Tasslehoff returns from scouting and signaling danger! A party of eight clerics is coming this way, but not like any clerics the Kender has ever seen!
The clerics arrive. They are dressed strangely. Every square inch of skin is covered. They are looking for a blue crystal staff with healing powers.
Despite the possible danger Goldmoon rushes forward to help the injured Cleric with the staff!
Will she survive? Will she be hurt? We find out in the next chapter.