Chapter 18
Fight at the lift.
Bupu's cure for a cough.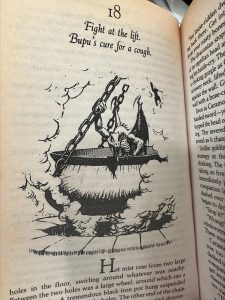 The elevator we saw in order to get up and down without the use of modern day machinery uses the gully dwarves as weight to bring the Draconians up from far below in the ruined city. The result of this discovery is that there is a thrilling fight that takes place in a giant pot that is used as an elevator car.
It sways back and forth as weight gets thrown around inside, making things far more complex, it is a fight you just have to read. Fantastically written.
In the fight the group was temporarily separated resulting in two different melees taking place at once. It took some very innovative thinking on behalf of our companions to get out of this sticky situation.
A gully dwarf by the name of Bupu comes to the rescue and during a lull in the fight shows them another way to get down below.
Remember, the gully dwarves mean well but aren't that smart. On top of that there is a fun loving Kender in the group, so their journey to the lower parts of the ruined city is…interesting.
Chapter 19
The broken city.
Highbulp Phudge I, The Great.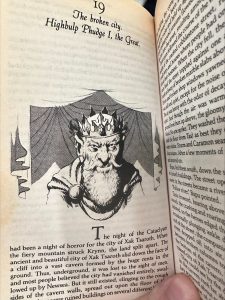 We get a little more backstory on what happened to Xak Tsaroth the night of the Cataclysm. Bupu leads the group along a pathway not taken by the Draconians for multiple reasons to go and see the leader of the gully dwarves, the Great Highbulp Phudge I.
It wasn't the easiest path to traverse, but it did serve to avoid the Draconians.
One of the cool things in this chapter is that never before have I listened to a frustrated dragon complain. Now I have.
The gully dwarves lived in a part of the ruined city that neither the dragon, nor the draconian care about. Interestingly we learn more about the gully dwarves that will come back in future books. They are generally considered cowards, and will avoid a fight at all costs. However, when they are backed into a corner they are ferocious fighters.
Throughout the chapter we start to see questions arise. For instance, Sturm starts to ask questions about why Raistlin is so excited to have come to this destroyed city.
We find that the Great Phudge I does not like life with the dragons or the draconians and wants the companions to make them go away or kill them. He "knew" where the dragon lair is, and how to get there, but he is nervous that the companions are just here to steal from the dragon and run. So will he double cross them? We will find out in future chapters.