I recently re-read the Donald Westlake Book What's the Worst That Could Happen, which also has a movie adaptation starring Danny Devito and Martin Lawrence.
The movie adaptation is freaking hilarious, so let's talk premise here.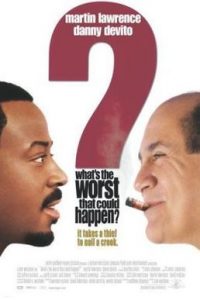 The novel is one of several by Westlake about main character John Dortmunder (name changed for the movie). John is a burglar who never uses violence, and rarely pulls off much more than a robbery where he makes a much. So, he works hard, and is clean in that he doesn't get caught because he is a pro after all. In the movie this is Martin Lawrence (who has a fence he uses played by Bernie Mac).
The story is centered around a ring that John's girlfriend gives him that is supposed to be good luck. While John is robbing a home he gets caught and the house owner that catches him, and while he is handcuffs the house owner steals the ring from a thief.
A thief got robbed, during a robbery! What's not funny about that.
This sets off a series of competitive robberies trying to steal the ring back, but John continuously "fails" and only manages to steal tens out thousands of dollars in cash and goods. And John feels he has failed…
The conflict between these two go back and forth, everyone on both sides just telling them to let it go, not worry about it, just move on. This can't happen, once two people that are fighting for pride lock horns, it is hard to get them to stop.
Both the book and the movie are HILARIOUS. The book in the photo is my first edition copy of it. Fantastic stuff, and the movie did change a few things, but it totally works, and isn't so changed that the story is different. It was an amazingly well done adaptation. The cast knocks it out of the park. A must see, and a fantastic read.