I think reading is a big part of how we learn the details of different subjects. We can hear someone say something, but if we aren't equipped to read we miss nuance.
I also think that in the fictional space reading gives deep insight that other mediums do not. For instance, have you ever seen a movie and read the book and thought the movie was better?
I actually have but it is rare.
I also think that kids as well as adults are not reading like they once did.
Why is that?
Well, certainly home entertainment options have increased over the years. But also as my generation grew up reading, then video games showed up we slowed our reading. As adults streaming hit and we don't read as often.
Kids do what they see their parents doing. So if you don't read, and your kids don't witness that they likely won't.
My kids are now 9, 11, and 13 and are somewhat avid readers. When they were little I made a real effort to read to and in front of them. When reading to them I tried to keep it interesting, I tried to get them books they would appreciate.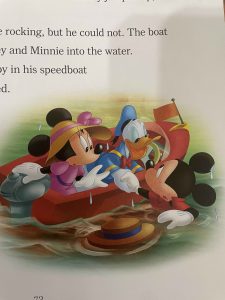 One of those books I got for them a number of years ago was a Disney Storybook Collection. The artwork is amazing, the stories are predictable Disney and all about Mickey and Minnie, but it was a nice bonding moment to see the art, and the story and it helped them image the words.
Even now as I write this one of them is actually starting to do some creative writing of their own, and you can see the influence of the books he has read over the years.
I do believe that reading has influenced their creativity, and certainly helped them greatly in school. If I could give any advice to new parents, it would be read to, and in front of your kids. Not things you "have" to read, but things you want to read. It will bring them a lifetime of learning, and enjoyment, and you will find joy yourself.