My love of reading has been a lifelong passion. Now that I am older I fully realize I have to credit my father with this love. He took me to bookstores when I could barely read, he always had a fiction novel somewhere within arm's reach. He had authors he adored, others he criticized and had a passion for finding something new to read.
One thing he did for as long as I could remember was subscribe to Analog Magazine. This is a science fiction magazine that started in the 1930s when it was called Astounding Stories of Super-Science.
When he passed away I became the proud owner of his collection of books and back issues.
I picked up the February 1978 issue from the stack this morning and found some really interesting stuff.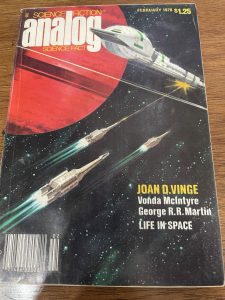 This thing has novellas, or short stories by Vonda McIntyre who won multiple Hugo and Nebula awards, George RR Martin of Game of Thrones notoriety, and Orson Scott Card of the Ender Series and tons of others.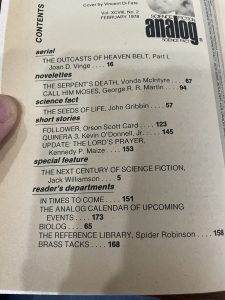 The artwork in these early magazines is striking in my humble opinion. Sure, today's artwork goes all high resolution computer driven, but imagine doing each image by hand, getting it to the publisher and making sure it can be mass produces on time.
The George RR Martin story is an interesting one.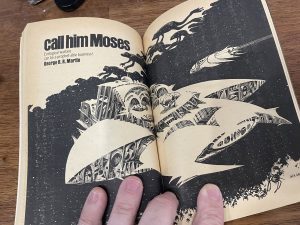 Call Him Moses is the story of Tuf just wanted to eat in a nice restaurant. Then he was sucked into a fight involving this character Moses who had unleashed a plague, and someone needed to do something to stop a potential generation from suffering.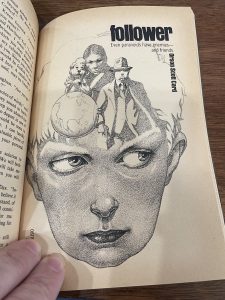 The Orson Scott Card story follower is the story of 12 year old Reuben who decided on his 12th birthday that this was going to be his year! It is an interesting story to read, and if you get the chance I recommend it, but that isn't the point to this post.
As a writer myself people ask me why I bother on occasion with short stories or Novella length things that may or may not ever get published.
These shorter form bits of fiction do sometimes grow and turn into full blown novels. In face, Ender's Game originally appeared in Analog as a short story, then grew and grew and grew into a series.
These magazines are becoming a thing of the past in favor of fan fiction, and it is my position that it's really ok and fan fiction deserves more attention than it deserves. It is where the big authors of tomorrow go to hone their craft. It isn't easy writing a book, getting a story to hand together for that long, and not get distracted and stay interesting is a challenge.
I love these old magazines, and I will treasure them until my kids end up with them on their shelf when I am gone.