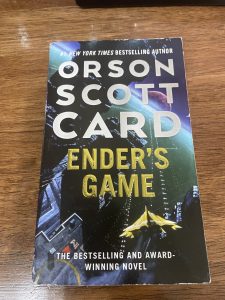 Ender's Game by Orson Scott Card gets thrown around as a name among the best sci fi books ever. Maybe it is, maybe it isn't, but it does have an interesting story line and really interesting history if you are a writer, or just someone who is a writing enthusiast.
First, it won both the Hugo and Nebula awards in 1986 for best novel, but first appeared as a short story in 1977. Wait? What?
That's right. It originally appeared in a 1977 edition of Analog Magazine as a short story, and didn't even rate a mention on the cover.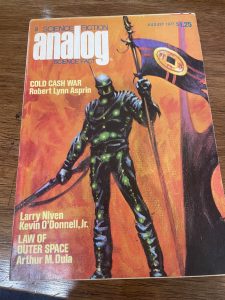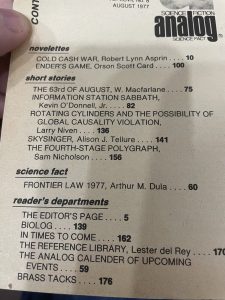 I happen to have a copy of that issue of Analog, and take a look for yourself!
The book itself is a military science fiction novel set at some point in Earth's future when all of humanity may be destroyed by an alien invading horde called "the buggers."
The book is unique because it raises the question of morality. What would people to, what would humans do, if pushed with extinction. Could we destroy an entire civilization? Some people wouldn't. But how would you?
This society decides that taking children from a very young age and training them to be commanders that make those decisions could be the right answer. The book really doesn't focus on technology of the future, which is probably why it ages well. It focuses on morality and questions morality. Which is unique in the sci fi world, and let's face it human morality hasn't changed a lot in hundreds of years.
The book has been turned into a film, a video game, comic books, you name it, the thing has been done that way. I don't think the movie was amazing, but the book was pretty solid.
As a writer myself it is interesting to me that Orson Scott Card wrote it as a short story and kept working on it for years to get it the way he wanted it. I myself am just finishing a story that I have been at for a very long time, attempting to get it just the way I see it in my head.
This also gives something to the other authors out there. If you have an idea, and you want it a specific way, sometimes that doesn't happen fast. Sometimes you have to edit, expand, work through, think through and overcome the doubt of yourself and others. The result might just be a book that stays in that "best of list" for four decades.
If you haven't read it, find a copy of the book. Give it a shot. You will find something different from the rest of the science fiction genre.
Yes, I have a few copies of it including the leather bound one by Easton Press, and kind of show them off here throughout this post…But, I have an extensive book collection that never seems to shrink. I may need a larger home soon.